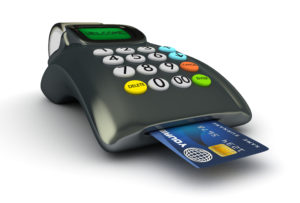 One of the keys to powering your small business, once you pass many initial formalities, is the choice of a merchant account for your business. This seemingly straight-forward choice is actually a very important decision for you and potentially a costly mistake if you don't get things right by choosing the best provider.
But, first, let's go over the basics of what a merchant account really is. A merchant account allows you to charge and collect funds from your customer credit cards. That is the easy answer. Anyone who has a credit card, has either swiped the card or entered digits into an online shopping cart. But let's look at the nuts+bolts of what happens with the service.
In-store transactions are relatively straight-forward. A customer wishes to purchase something from you, you prepare the transaction via you point of sale equipment, and swipe or insert the credit card. From there, the device will transmit data to what is called a payment gateway. The payment gateway communicates with your merchant bank. The merchant bank communicates with the credit card issuer. The credit card issuer either approves or declines the transaction, and the communication protocol is sent back to your merchant account terminal. If approved, the transaction is completed and receipt printed out.
Online is a bit different as there is no physical card present. This is an important issue that will be discussed shortly. Online, the customer will manually input the card information into your shopping cart. When the customer clicks the 'place order' button, the entire gateway-merchant bank-card issuer sequence is repeated. Unlike the physical in-store equipment, online activity is via a virtual connection known as an API which allows communications between two machines. Setting up an online merchant account is detailed but relatively quick.
Selecting a vendor really comes down to cost, and now is the time to pay attention. Costs are a bit tricky with merchant accounts. There are a number of moving pieces here. For a merchant account solution, you will need both a payment gateway and a merchant bank. In many cases these are bundled together into a single solution. In other cases you may want more control over your services and costs and choose them individually. If you choose a bundled solution, you will be looking at three price elements; the monthly fee, the per transaction fee, and what is called the discount rate. The monthly rate is pretty straight-forward. It is the monthly cost they charge for your account. Typically this ranges in the $15 – $30 range. The cheapest isn't always the best though. Transaction fees are the charges for each transaction that you transmit; approvals and declines. You can expect a cost range here of $.05 to $.15 per transaction. Again, the lower price may not be the best choice. A lot of providers include a bunch of transactions in your monthly fee. Do the math, it may make sense to pay the higher rate if you are getting 100 free, and you do 120 monthly transactions. Finally, the discount fee. This is a percentage of the sale, and this is where lower is better. Typical ranges are 2-3% for Visa and Mastercard. Some quick math here, if you do $2,000 per day in transactions, a 1% difference over five years would equal around $50,000 in additional charges. Choose wisely.
You may wish to add other cards to your merchant account. American Express and Discover Card are the main non-bank consumer credits cards to think about. American Express, touted as the business credit card, is actually the opposite. It has a higher cost across the board. You will need to apply for the account separately to be added to your merchant account. But expect high per month fee, high transaction fee, and high discount fee. Hardly helpful to a small business. The Discover Card is quickly moving to obscurity and not worth the monthly cost.
Getting a merchant account is easy to do. You complete an application from your vendor and wait for the approval. The approval rate is somewhere in the 98% for small businesses. Keep in mind, you need to stay on top of returns and chargebacks. If your chargeback rate is too high, you could find that your merchant account has been canceled.
If you are one of the unlucky 2% that does not qualify for a merchant account, or through some bad fortune has their account terminated, you still have options. Some very good ones.
The first and easiest option is from a company called Square. Square is run by Jack Dorsey who also runs Twitter. Basically Square is a simple and easy to use service that allows you to collect money from any credit card. You sign up, they send a card swipe device which you plug in to your tablet or mobile phone. You install the Square software, link it to your bank, test the connection, and are in business. Note that Square only works with physical cards and not online. But the funds transfer quickly, and the software has a bunch of nifty features to it. Costs are a little higher than a typical merchant account, but if you are out of options you are not really in a position to be too picky. And by higher we mean maybe a half percentage point on the discount rate. Not horrible
The second option is of course PayPal. PayPal is a great money management platform that allows you to collect funds, issue invoices, and serve as a merchant account. There are different levels of accounts with PayPal ranging from basic money transfer accounts (think EBay) to full blown merchant accounts. The beauty of PayPal is that it is useful for physical credit cards and they provide a free card swipe device similar to Square, but also you can use PayPal online with your website to collect funds from any credit card. Plus, the added benefit that 10-15% of website transactions opt for PayPal money transfer as payment. The application for the online basic merchant PayPal account is nearly universally approved and very quick. The higher level merchant account though is a bit more complex with its application, but has better rates.
So in closing, there are a lot of choices in choosing a merchant account, including the thousands of resellers, agents, and commissioned representatives all marketing merchant services. If possible, deal as close to the merchant bank as possible. This will serve you well when it comes time for customer service issues. If you want help in choosing a merchant account to power your small business, drop us a line and we will be happy to help.