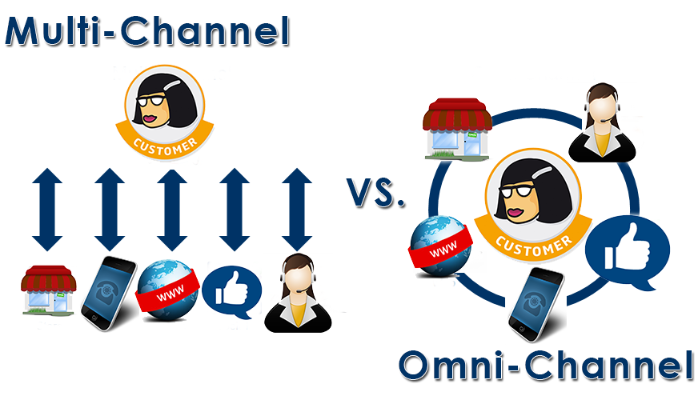 If you are involved in the retail industry, you likely have heard the term 'omnichannel'. If you haven't, then you may want to read further. It is very important to your continued success to understand what has happened in the retail world and what you need to be doing to adapt to the new demands placed on you and your company.
First let's look at the traditional retail environment. A retail chain used to have a number of regional or national storefronts from which they would operate. They would also likely have an e-commerce website, that used to operate separately from the physical stores. Separate merchandising teams, inventory, and strategies. It was not unusual to find chain websites merchandising products that were not available in-store at the same company. In fact, even today, you can go to a website like Walmart and search on beauty products. Look at the high end of the inventory. Those products will never appear in a Walmart store, yet, Walmart seems to want to cater to a certain section of their demographic that has proven to convert on luxury goods. Clearly, this is not a good use of company resources, and sends a confusing signal to Walmart customers.
As competition grew, primarily from the online retailers like Amazon and EBay, retailers found that they were losing a lot of revenue by not having a sound online retail strategy. So more effort, study, and strategy was invested in retailer e-commerce websites, aligning the merchandising teams under the same management team.
From this consolidation grew what was termed omnichannel. The ability of a retailer to engage with a customer on any level, in any channel. This became a tremendous tool used against the online retailers like Amazon. Now a retailer could compete online, and offer in-store pick up, in-store returns, and the ability to showcase merchandise in-store, and capture the transaction online. This ever present presence is key to maintaining and growing the relationship with a consumer.
So what does this mean for your business? Well, if you produce a retail product, this is a huge opportunity for you. It turns out that the retail companies like to use omnichannel to test brands within their consumer segments. Smart and talented merchandisers, like Target, excel at omnichannel merchandising. They are happy to test out what may be the next great product, where previously, you may have never had a chance to do business with them. You should look at omnichannel as a wide open door for doing business with the big chains.
The tools you will need to succeed in this environment, are a great looking website, and superior product images of your products. Remember, you products will be reviewed and evaluated based on how well they present online to consumers. If you are taking product shots with your android phone, that just will not cut it. Invest in product images that show off your product. If you are not showing it off, why would a merchandiser want your products? Also, content is key. Your website is your ability to control the narrative surrounding your brand. Make the content inspiring enough that the merchandisers would buy the product from your site.
Once you get the go ahead from a retail chain, there are many issues which we cover elsewhere on our site, but you will need to create a plan of action. There should be a clear understanding on both sides of your relationship of what the expectations are. The roadmap should include how you will transition seamlessly from being an online vendor to a true omnichannel vendor. Proving yourself on their website is a great first step. Give the merchandiser lots a fresh information for their site, be ready to help with any customer issues, and communicate constantly with the merchandising team. Once you show you are a reliable vendor, and your products sell, you can expect the opportunity to move in-store and get coveted shelf space.
They say you cannot be all things to all people, but in the retail world, you can place your product everywhere into every retail channel. This should be your call to action in developing a strategy to finally do business with the big players. Go get them. You can do it!